Schedule : Monday, Tuesday, Wednesday 11am - 6pm; Thursday, Friday 12pm - 7pm
Duration : 3O hrs
Price : 300€ (individuals), 600€ (organisms)
"She alone is present everywhere,
and so she is called the One.
She alone wears all forms,
and so she is called the Many." 
— Devî Upanishad VIII, 26
It's in her benevolent form of Parvati that Shakti is revered as the spouse of Shiva, but this aspect alone is not sufficient, it is one among many. Like Shiva, she assumes different forms. To the benevolent sides of Shiva, correspond the aspects of Sati, Parvati, Uma. To the hard and angry sides of the god, correspond Durga, Kali. To the one thousand and eight names of Shiva correspond the one thousand and eight names of the goddess. Personification of the Absolute, it is her that creates, destroys and preserves the world. The three main forms of the goddess – Parvati, Duga and Kali – are parallel with the three forms of the Trimurti and assume the three divine functions that are usually of the gods Brahma, Vishnu and Shiva. Rajarajeshwari, she who reigns on the king of kings, is an aspect of Lalita, incarnation of grace and beauty. The gods Brahma, Vishnu, Shiva and Skanda are the feet of her throne, and she sits on the body of her husband Kameshwara (Shiva). The goddesses Saraswati and Lakshmi unveil her. She is the personification of the supreme goddess.
Shri Rajarajeshwari ashtakam is an octet in praise of different forms and glories of the goddess, believed to be composed by the enlightened guru Shankaracharya (philosopher and spiritual master of the 8th century). Vidhya has choreographed this composition with music tuned by Rajkumar Bharati, in the form of a tillana (a joyful, rhythmed dance). The choreography incorporates the power, grace, energy, compassion of the goddess, whose presence is in every woman.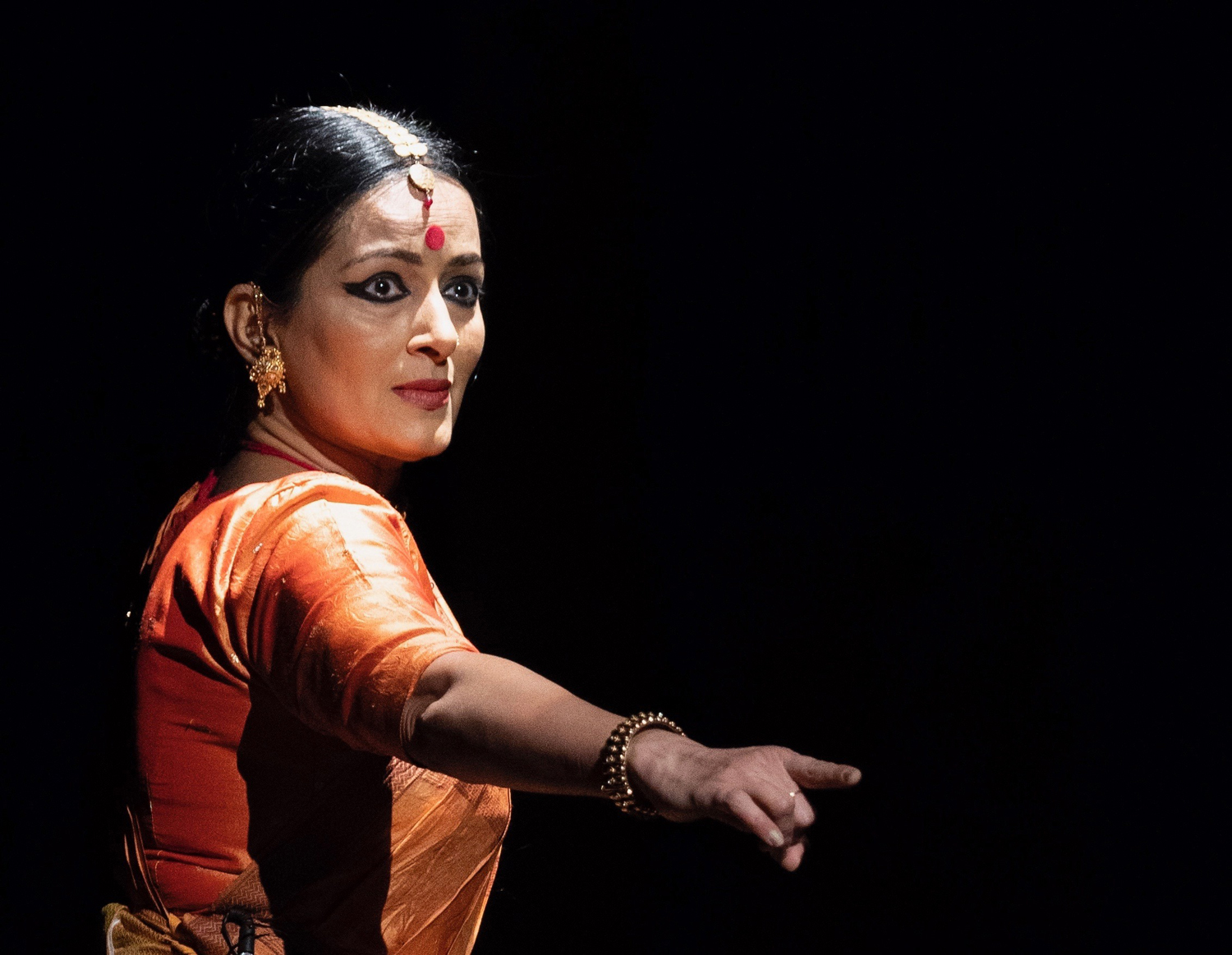 Still I Rise is a full-length work by Vidhya Subramanian, that builds a bridge between Draupadi (the heroine of the Mahabharata) and today's woman, through Bharatanatyam and slam. In the final piece in this production, Vidhya has incorporated the words of Pushyamitra Upadhyay in his poem, Ab Govind na ayenge in which appalled that the world today hasn't changed, Draupadi cries: "Govind will not come now. Rise my sister, my daughter, fight for yourselves". Juxtaposed with Maya Angelou's time-honored poem 'Still I Rise', it is a powerful message of uprising against the violence of which women are victims.
In understanding these two compositions, students will find the relevance of our myths and spiritual messages in our own lives. Vidhya strongly feels that the idea of Devi that exists in each of us is important to explore to build strength and the power to overcome challenges.  In collaboration with Hamsaya.
In partnership with Hamsasya